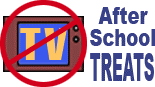 SEND DONATIONS*
WITH "KAREN WESTERN" IN THE MEMO LINE TO:
AFTER SCHOOL TREATS, INC.
P.O. Box 995
Elkhorn, NE 68022
* Donations tax-deductible, 501(c)(3)
Mini-Grant #2:
Karen-Western Elementary School
Wednesday After School Program, "Creativity Club"
Ralston Public Schools
6224 H St.
This small and friendly grade school on the eastern edge of the Ralston School District has a high percentage of low-income children and English language learners with average test scores with a lot of room for improvement. On Wednesdays, when school is let out at 1:25 to provide time for planning and meetings for teachers, it's an especially long and dreary afternoon for many of these students.
So donors are stepping in with mini-grants to provide a variety of field trips and hands-on enrichment activities in the Lil Rams after-school program on Wednesdays. After School Treats also has provided snacks, science experiments, demonstrations, guest speakers, and many other special programs on Wednesdays since January 2009, and is helping pay for extra staff to reduce the staff-to-child ratio. The Ralston Public Schools Foundation provides staffing and transportation for field trips and so forth. And boy, do the kids love it!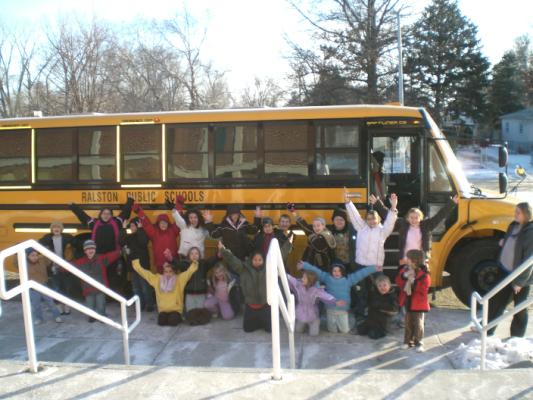 But more After School Angels are needed to help the Karen Western L'il Rams benefit from continued opportunities for enrichment. See examples, below. If you would like to provide a week or a month of activities like these, please contact susan@afterschooltreats.com. Remember, your donations are tax-deductible! The kids at Lil Rams are waiting to hear from you!
Jan. 7
Winter Wonderland
Science experiments testing ice and water . . . making snow globes with water, glycerin and glitter . . . creating "snow" on a crayon picture with an Epsom salt solution paint-over . . . decorating popcorn snowpeople with "scarves" out of fruit leather and "arms" out of pretzel sticks and so forth - and best of all, eating them!
(Funded in honor of Mary Jean and Hugh Williams of Omaha)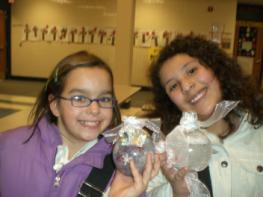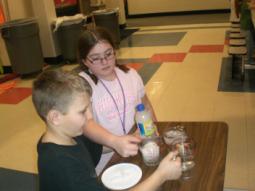 Jan. 14
Field Trip: Ice Skating
The Ralston schools bus took 22 skaters and four adults to the Motto McLean Ice Arena (the former Hitchcock Arena) at 5015 S. 45th St. For many of the children, it was a first-time skating experience. They started off wobbly, but by the end of the hour and a half, they skated like pro's!
After hot dogs and Sprites, the children returned to school to do a vocabulary and group writing activity about skating. Then they studied patterns, predictions, and snowflakes. Finally, they folded and cut dozens of paper snowflakes that they taped onto the front doors of the school, and the entry to the teachers' lounge, as a surprise for the next morning! Let it snow!
(Funded in honor of Mary Jean and Hugh Williams of Omaha)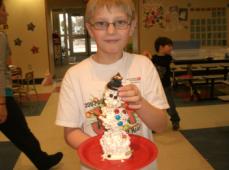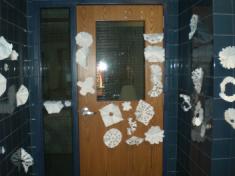 Jan. 21
Arctic Adventure
We scrounged 78 clean, dry, gallon plastic milk/water jugs (with special thanks to Ideal Pure Water, 7667 D St.!!!). We used them "ice blocks" and hot-glued them together, building a "Reading Igloo" for the Title I preschool room at Karen Western. We did several math problems with the jugs, too, and learned about insulation.
Students made their own Eskimo Pies out of frozen yogurt and chocolate wafers, and drank juice with ice cubes that "preserved" gummy worms, the way the Inuit people preserved food in ice.
Finally, they made dioramas of Arctic villages, complete with eggshell igloos, blue cellophane water with bubble-wrap "icebergs," and tiny Inuit "people" (special thanks to Hy-Vee for providing white meat trays for the dioramas).
(Funded in honor of Mary Jean and Hugh Williams of Omaha)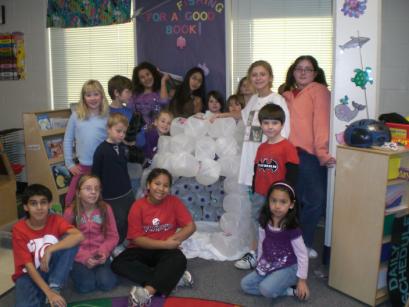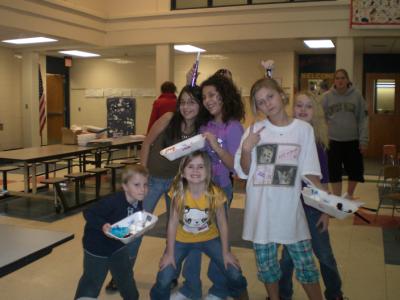 Jan. 28
Field Trip: Fiesta at El Museo Latino
In a bus provided by Ralston, 30 students and three adults visited this unique and colorful South Omaha museum, 4701 S. 25th St. The students experienced Latino art in a museum tour, made a mini-pinata to take home, snacked on authentic Mexican cookie, clementines and juice, and enjoy the grand finale - a Latino dance lesson taught to the beat of some mighty fine Latino music!
 (Funded in honor of Mary Jean and Hugh Williams of Omaha)
Feb. 4
Swimming at the Downtown YMCA
The program has grown from the dozen or so children who were attending, to the 45 who participated in this mini-field trip! For many of the children, this was their first swimming experience.
Feb. 11
Valentine's Crafts
The kids made collages for their parents, hanging suet bags for wild birds, made "shape sandwiches" out of heart cookie cutters and many other shapes, and made other crafts to celebrate the holiday that's all about love.
Feb. 18
Tour of Boys Town
Students got the red carpet treatment from Boys Town staff, as they were allowed to peek inside one of the residences, talk with staff, gape at the world's largest stamp ball in the visitors' center, and go through the exhibit about African-Americans at Boys Town for Black History Month.
Feb. 25
Art Around the World
The most sensational activity was making a Japanese fish print out of an 18-inch carp, some black tempera paint, and newsprint. The children then brainstormed vocabulary words about fish and wrote haiku or short stories to go with their fish prints. They also made traditional tin embossings from Mexico, and miniature Inuit inukshuks, or stone markers, out of modeling clay.
March 4
FIELD TRIP: STRATEGIC AIR AND SPACE MUSEUM NEAR ASHLAND, NEB.
The students traveled on a bus provided by the Ralston Public Schools Foundation to the museum to view the special science exhibit on the brain. They used their own brains, took notes, and wrote a report.
March 18
Writer's Workshop
Students crafted three hands-on, creative projects and used them to write stories about character, plot and setting.
March 25
FIELD TRIP: SWIMMING AT THE DOWNTOWN YMCA! 
Back by popular demand, students repeated this fitness-related field trip.
April 1
Comedy Club
April Fool's Day demanded a focus on humor. Students learned about improvisational humor, collecting jokes and riddles, and cartooning, and then each wrote and performed a stand-up comedy routine using a real microphone.
April 8
CAPOW!
The Chemistry and Physics on Wheels "mad scientist," Dr. Dan Sullivan, enchanted the students with an array of fascinating, educational, and most of all LOUD experiments and demonstrations. Afterwards, the students wrote a report about what they learned.
April 15
Dog Agility Demonstration
Jami Campisi of Elkhorn, a champion dog trainer, brought her two beautiful and enthusiastic Shetland sheepdogs to demonstrate dog training methods and how to train a dog to do an elaborate obstacle course. The children were given a chance to try it. They also made "Pea Mutt Butter Dog Treats" in the school kitchen to bring home to their own pets.
April 22
FIELD TRIP: Fontenelle Forest
Earth Day demanded this nature-loving hike into the prettiest spot in Omaha.
April 29
Tae Kwon Do
The Tae Kwon Do Academy of Omaha (2410 S. 179th St. and 12309 W. Maple Road) donated an hour-long demonstration and beginning class session on the ever-popular martial art, tae kwon do. Students gave instructor Jeffery Boughtin their undivided attention, and in the climax of the session, a volunteer got to break a board with her bare hand! Students also learned how to write a few words in Korean and studied the Korean flag.
May 13
GRAND FINALE: A ROUNDUP IN SKYLINE RANCHES
More than 35 Karen Western students boarded a bus for a rootin' tootin' afternoon at the neighborhood pond, park, picnic pavilion and riding arenas operated by the Skyline Ranches Property Owners Association in Elkhorn. They made stick horses, learned about cowboy poetry, had a sloppy joe lunch, and got to groom two horses that belong to longtime 4-H leader Sherry Reeble, aided by her daughters Amber and Paige. Amber, a student at the University of Nebraska-Lincoln, has been named Miss Collegiate Rodeo 2009, and she autographed colorful photos of herself in her rodeo finery for the children, urging them to set high goals and follow their dreams.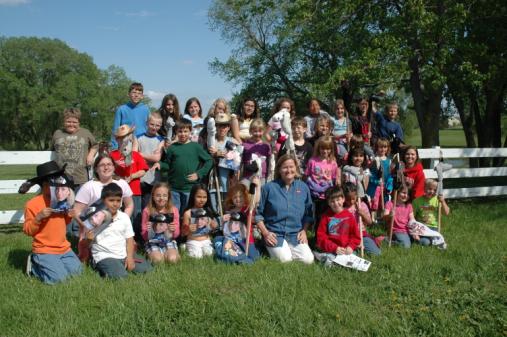 Karen Western students with their stick horses
at Skyline Ranches in Elkhorn for the grand finale event.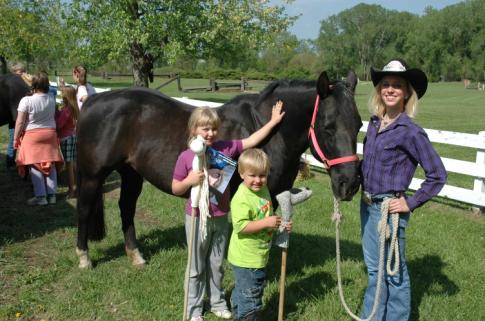 Ralston students enjoyed meeting Amber Reeble, Miss Collegiate Rodeo 2009 from the University of Nebraska-Lincoln, a champion horseback rider, who signed autographed photos and told the kids how she sets goals and accomplishes her dreams.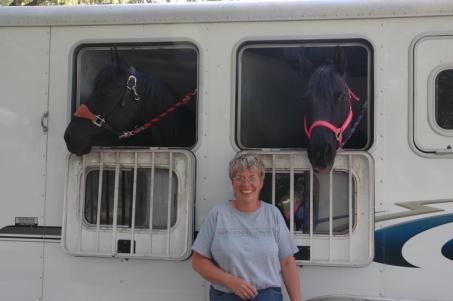 Sherry Reeble, longtime leader of the Skyline Trailblazers 4-H Club, brought two horses for the Ralston kids to groom, aided by daughter Paige.
-------------------
Please contact susan@afterschooltreats.com if you would like to become an After School Angel and provide tax-deductible donations, or volunteer your time for more experiences like these at Karen Western Elementary School in the 2009-2010 school year. Thank you!