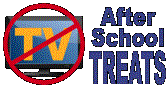 This Website Is For Everybody,
But We Also Are a Nonprofit, 501(c)(3) Organization
Dedicated to Helping Disadvantaged Kids
With After-School and Summer Enrichment
JOIN US TODAY! Contact susan@afterschooltreats.com
Here are some of the fun things
we've been doing with kids in the Omaha metro area:
TRI Community United Methodist Church
6001 Fontenelle Blvd.
Fall 2011 -- funded a new after-school program in this North Omaha church which is near Belvedere Elementary School; the once-a-week program features a healthy snack, exercise time outside, 20 minutes of hands-on reading, writing and math activities, monthly field trips and a monthly service project focusing on social justice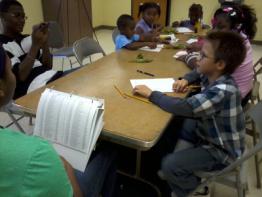 Hope Center for Kids
2209 N. 20th St.
Summer 2011 - sponsored a "Stick Horse Whoadeo" for 50 students featuring cowboy math, cowboy poetry, a make-your-own stick horse craft, rodeo-style stick horse races, and of course, grub on real camp plates from the chuckwagon; donated dozens of hands-on activities for summer 2011 programming to promote reading comprehension, math computation and writing skills; in 2010, donated motivational gifts for center store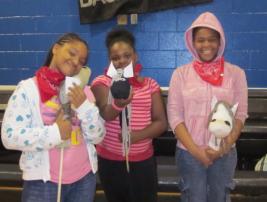 Franklin Elementary School
36th & Franklin Streets
Summer 2011 - funded a leadership development workshop for two age groups of students from nationally-known motivational speaker Paul Bryant; students also participated in an assembly on garden art with author Neecy Twinem of New Mexico in spring 2010 with free pansies to take home
Morning Star Lutheran Church Preschool
331 S. 85th Ave.
Spring 2011: Designed and built a five senses children's garden, and taught garden lessons to the children
Wesley Academy
2001 N. 35th St.
Spring & Summer 2010 -- funded and conducted Kids Garden Club (www.KidsGardenClub.org) weekly activities for 8 weeks, including these crazy "eggheads," below; organized and partially-funded a summer 2010 phonics and math camp for approximately 30 students; students also attended a garden art workshop with nationally-known children's author Neecy Twinem in spring 2010
Miller Park Elementary School CLC (Community Learning Center)
5625 N. 28th Ave.
Spring 2010 -- presented a one-hour hands-on workshop on Leonardo daVinci at the federally-funded after-school CLC during spring break, and sponsored a field trip the next day to the Strategic Air and Space Museum near Ashland, Neb., for the daVinci exhibit, all in honor of the after-school staff member of the year in Nebraska, who works at the Miller Park CLC
Karen Western Elementary School
6224 H St., Ralston Public Schools
January through May 2009: provided once a week enrichment activities from 1:30 p.m. to 5 p.m. for low-income after-school children; started with about 12 participants and ended with 50; students went on field trips, had guest presenters, put on a comedy club, did science experiments, went swimming and ice skating, and did crafts; field trips are always a kid favorite, and since low-income families often can't afford a field trip fee, underwriting trips for after-school programs is an important enrichment aid.
Completely Kids (formerly called Camp Fire)
After-school youth-serving organization with various inner-city
Since 2009:
n Provided kits for 10 hourlong enrichment sessions, Walnut Grove School, Council Bluffs
n Sent an Omaha after-school group to the Old Market for a Christmastime dinner, ice skating, horse-drawn carriage ride and cocoa
n Provided a 6-week, once-a-week writer's workshop with Omaha author Jeff Barnes for the after-school group at Marrs Magnet Middle School, 5619 S. 19th St.
Good News Bible Clubs / Child Evangelism Fellowship
Fall 2009: Patron party raised $450 for this after-school Gospel club for unchurched kids