SEND DONATIONS*
WITH "COMPASS MINISTRIES" IN THE MEMO LINE TO:
AFTER SCHOOL TREATS, INC.
P.O. Box 995
Elkhorn, NE 68022
* Tax-deductible, 501(c)(3)
Mini-Grant #1: COMPASS MINISTRIES AFTER-SCHOOL
A faith-based, inner-city afterschool program located at 1723 N. 33rd St. Compass regularly serves 15 to 20 low-income grade-school children with homework help, nutritious snacks, and creativity / play activities in the after-school hours. Compass also offers special events and weekend programming which draw greater numbers.
2008 - A grant of $2,500 from After School Treats, Inc., was given to enable Compass Ministries to open on non-school weekdays during school holidays and other days when schools are not open, 2008-09 school year.
2009 - $250 for activity materials, underwrote a Flag Day flag plaza dedication ceremony, and provided milk for Fall 2009 snacks for the after-school program.
2010 - Milk for Spring 2010 snacks.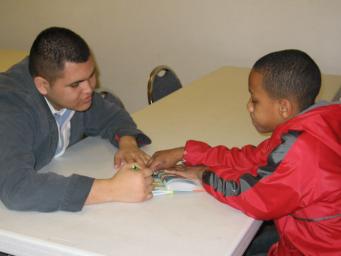 The first After School Treats grant to Compass Ministries has inspired an ongoing relationship with this outstanding, Christian-based afterschool program near Franklin Elementary School in North Omaha.
Previously, Compass couldn't afford to be open on weekdays when school is not in session, around holidays and teacher inservice times. For several days a year, these northeast Omaha kids had nowhere to go on those days.
Thanks to this mini-grant, now they have a fun, safe, supervised place to go on those days, with nutritious food, mini field trips, and purposeful activities to spend the day productively.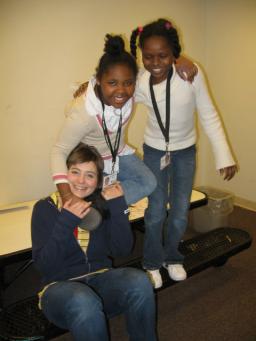 Compass Ministries is located in the former Franklin Credit Union building. It is a nonprofit, Christian youth-serving organization. It provides tutoring, mentoring, homework help, Bible study, occasional field trips, and creativity experiences for inner-city children and youth. On Sundays, there's a well-attended "kids' church."
The effectiveness of the faith-based approach to helping inner-city youth is outstanding. Would you like to support Compass Ministries? More funding and volunteers are needed. Please contact susan@afterschooltreats.com to discuss a tax-deductible donation. Or contact Dale Davies at Compass Ministries, 558-8646, and view the video at www.compassomaha.org