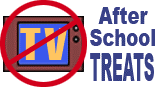 'Aggression' Cookies
Today's Snack: What else? A couple of these great cookies, with a big glass of milk!
--------------------
3 C. quick-cooking oats
1 ½ C. brown sugar
1 ½ C. flour
1 ½ C. butter or margarine, softened
1 ½ tsp. baking powder
Here's a great cookie recipe for a rainy day, or if your child has just been acting more rambunctious than usual. It's actually GOOD for this dough, the wilder and rougher your child is as he or she gets it ready for baking.
Your child will enjoy helping you measure these ingredients. Be sure to press down the brown sugar instead of measuring it loosely.
Dump all the ingredients into one large bowl. Make sure your child washes his or her hands well, and then . . . HAVE AT IT!!!
Let the child dig in with his or her hands to mix, mush, pound, punch  and knead the batter. You don't need an electric mixer for these cookies - you have your child! It's a great way to get rid of some extra energy, and the longer and harder the dough is mixed, the better the cookies will taste. So your child should take lots of time and do a thorough job!
Meanwhile, preheat oven to 350 degrees.
Help your child roll the dough into small balls and bake on an ungreased cookie sheet for 10 to 12 minutes. Mmmmm! Your child will go off to nap like a docile lamb!!!! (We hope!)