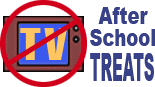 Connect-the-Dot Alphabet Pictures
Today's Snack: Spread peanut butter on a small plate. Place raisins in lines to form a design such as a face or an animal. Give your child celery sticks to use as "spoons" to scrape up the peanut butter and raisins, and eat.
--------------------
Paper
Pen, marker or crayon
            Everybody likes dot-to-dot pictures. You can make one using the letters of the alphabet to give your child the fun of a dot-to-dot with a little extra alphabet awareness time.
Start with a picture from a coloring book, or something you've drawn. If you have a portable light table, that's great for tracing, or just tape the original up on a window or sliding-glass door, and tape a blank sheet of paper over it to hold it steady so that you can see the outline clearly.
But don't trace the lines - make a dot-to-dot, using the alphabet. Starting with the letter A, place each letter of the alphabet at a consecutive dot. Let's say you have a picture of a fan. Make the alphabet letters like this:
A
F               B
E                              C
D
 If you come to a place where it's not practical to put a letter, or if you need more lines than there are alphabet letters, you can draw a line on the picture where there won't be alphabet letters to link. In this brief example, you could draw a line from the "F" to the "A," for example.
If you need more letters, start the alphabet over.
Now give your child the paper and let your child connect the dots by identifying each letter and going in order.