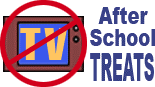 Building Better Bug Bodies
            Today's Snack: Bugs on a Log - Cut ribs of celery into three pieces. Spread the inside "gutter" with peanut butter. Stick plump raisins on top.
--------------------
Sample bug body-building parts to gather in advance:
Plastic eggs
Plastic wrap
Wire
Pipe cleaners
Springs
Green strawberry baskets
Toilet-paper tubes
Gift wrap
Kitchen implements such as mini-tongs
Egg carton sections
Colored foil
Nylon fastening tape
Cotton balls
Colored plastic links
Junk jewelry
Plastic straws
Paper cups
Clothespins
Bright fabric
            Insects have fascinatingly functional bodies. The things they can do with their amazing array of body parts!
            Did you know:
A honey bee's wings beat 15,000 times a minute.
The mole cricket doesn't have legs up front - it looks like they're tiny shovels!
The butterfly's tongue is really a flexible tube that coils up into a spiral, to be "unwound" deep into a flower.
Grasshoppers' legs have jagged edges to rub together and send signals.
A scale's mouth is like a bottle opener to pierce the stem or leaf and drink up.
The enormous eyes of the dragonfly let him see at all angles; they are like a ballroom globe with many, many "facets," which are small, smooth, flat areas such as you can see on a cut diamond.
Many flying insects have bristly legs to help them hang on to their prey.
A fruit fly's eyes have tiny hairs to help him feel as well as see!
A longhorn beetle's antennae may be three times as long as his body.
What's your favorite insect? Find a picture of one whose body functions you like, or go from memory. Then scrounge around for items such as those listed above that you can use to build a model of your favorite insect. Let's build a model that shows how that bug's body really works!