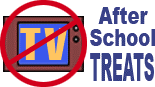 Butterfly Shakes
            Today's Snack: Butterflies get their nutrition from flower nectar. Nectar is basically sugar and water. You can make your own "butterfly shake" out of peach nectar, which is made from peach juice and added sugar, and usually found in small cans near the juices in the grocery store:
Butterfly Shake
Fill a tall glass half full with ice cubes
Pour 4 oz. of peach nectar into the glass
Fill with 4 oz. of sparkling mineral water, and stir
You can garnish the edge of the glass with a peach slice: cut the middle of the slice almost apart, leaving a little peach flesh on the skin, and then it'll "crack open" to rest on the top edge of the glass
Be sure to drink your "butterfly shake" from a straw. Why? See below. With that drink, have a plate of graham crackers.
--------------------
Supplies:
New Year's Eve paper noisemaker (one per child)
Straw (one per child)
Sugar, water and a pan in which to boil them
Spoon
Sturdy cup
      Did you know butterfly tongues are hollow, like a straw? They are soft enough to coil up inside the butterfly's mouth, in a spiral shape. But they are still firm enough to uncoil into a long, rigid straw that the butterfly can stick into the flower and suck up the nectar.
Look at the amazing complexity of a butterfly's tongue. Also note the detail on the eye, nearby: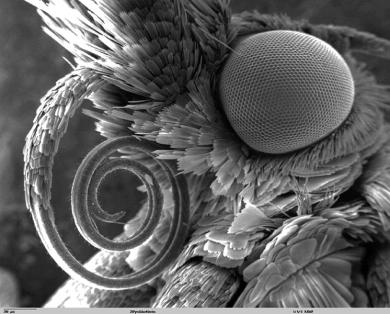 To see how the tongue works, take a paper New Year's Eve noisemaker, blow into it, and watch how it changes from a curled-up spiral into a long, straight shape. That's exactly what a butterfly tongue is like, only it's also hollow and able to carry wet nectar up it throughout the lifetime of the butterfly.
Now let's make some butterfly nectar. Into a pan on the stove, put one part sugar to nine parts water. So if you measure out one tablespoon of sugar, you should add nine tablespoons of water. If you have a lot of children who want to do this, use one cup of sugar and nine cups of water. Now take a spoon and stir. Bring to a boil over high heat. Boil for one minute. Turn off the heat, take off the burner, and let it cool down a little bit.
Then pour the nectar into a sturdy cup, like a coffee cup, that won't tip over in grass. Place it outside.
Now, gripping a straw in your teeth, "fly" up to the coffee cup like a butterfly, and, still holding the straw in your mouth, stick the straw into the cup so that you can suck up the nectar.
You can try to make your straw more like a butterfly's by flattening one end of the straw with your teeth, clamping down on it over and over, and then curling it into a spiral, and further clamping down on it with your teeth, until it is soft and pliable, or bendable. Can you "uncurl" it and suck up nectar through it? You might be able to mimic the real operation of a butterfly tongue this way - or maybe not. But it'll be fun trying!
You can learn more about butterflies at a site like www.butterflywebsite.com