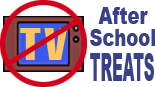 Species Mix-Up
            Today's Snack: Let's make a healthy mix of Cheerios, unsalted peanuts, pieces of dried fruit cut very small, raisins, and then, OK, if you HAVE to have a little chocolate: just a few M&M's. When you mix up the flavors, you max up the taste!
---------------------
Supplies:
Copy of forms, below
Pen, pencil, colored pencil
Photos from books or websites of different animal species
A "species" is a sort or kind of life, one of the most specific classifications in biology. A species might be a type of bird, mammal, reptile, insect, fish, invertebrate sea creature . . . you get the picture. The variety of plant and animal life is enormous, so when we want to get specific, we narrow down our descriptions to one species.
            Members of the same species look like one another and can breed with one another, but cannot breed with other species.
            For an overview of how different the various species are, here's a list of species that are endangered, or need to be protected, from the Sacramento, Calif., zoo:
            http://www.saczoo.com/1_about/_animals/_species_list.htm
            The traits of the various families of species tend to be pretty similar to each other . . . but they may be vastly different from the traits of different types of species. Similarly, while many species have bodies that provide similar functions to other species, such as locomotion, the bodies of the two species may vary in vastly different ways.
            For example, frogs and centipedes both have legs that help them move, but they differ significantly in size, shape, number and functionality. The wings of a hummingbird are vastly different than the wings of a condor, though both fly. And on and on the variety goes.
            The more you study each species' body parts and the way each one uses its body to survive, the more you can appreciate the differences and similarities between species.
            So, just for fun, let's mix them up! Think of the traits you like in three tremendously different species, list them in any of these three categories on the form below, and then draw and color a picture of a creature which would have those three traits. If a trait you like isn't listed in the three sections, write it in. Have fun and be imaginative, but be realistic, too.
            For example, if you choose the jaws and teeth of a wolf, and the gills of a fish on that creature, you probably can't have the short, skinny legs of a centipede because with those teeth, the creature probably has to move fast to catch the kind of prey that can be eaten with such big teeth, and with those gills, the creature probably has to swim fast to get enough oxygen transfer through those gills, so it will need strong legs.
            See? It gets complicated!
            You can add any other traits that you would like to your three basic choices as you draw. Be sure to note what the creature eats and how it gets its food in its natural habitat. Write why you think the creature is unique and what you like about it. Name that creature.
            Voila! You just created a new species! Of course, it's a heck of lot easier when it's done on paper. But it's still interesting, isn't it?
            If you'd like, photocopy the form below and make as many more new species as you would like.
---------------
NEW SPECIES NAME: _____________________________________
1. First trait
(circle your choice)
Head
Ears
Eyes
Nose
Mouth
Teeth, jaws
Neck
. . . of a ______________________________________
                        (list the existing species here)
2. Second trait
(circle your choice)
Skin
Feathers
Scales
Fins
Claws
Fur
Hair
. . . of a ________________________________________
                        (list a different existing species here)
3. Third trait
(circle your choice)
Arms
Legs
Tentacles
Tail
Breathing system
Digestive system
Antennae
Feet
Hooves
. . . of a _________________________________________
                        (list a different existing species here)
Describe this species' habitat:
How this species gets its food:
What makes it unique from other species:
What I like about it:
Now draw and color a picture of your new species:
By Susan Darst Williams • www.AfterSchoolTreats.com • Animals 06 • © 2008