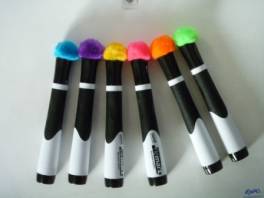 Service Projects:
Help a Teacher Make Classroom Aids
            Today's Snack: The pompoms in this activity remind you of meatballs, if you're hungry (OK, REALLY hungry - LOL). Two celery stalks, held together, make a long cylinder kind of like a dry-erase marker. So since we're talking about hot-gluing pompoms to the tops of dry-erase markers to serve as a handy eraser, bake some freezer meatballs to dip in ketchup, and eat two celery stalks with a little ranch dip. Your tummy won't want to "erase" this healthy snack! Be sure to drink milk or water, too.
--------------------
Supplies:
Choose a local teacher to "bless"
Pompoms | Dry-erase markers | Hot-glue gun (adult supervision required)
Depending on teacher's needs, you might need scissors, sticky tack, etc.,
and various craft supplies or dimestore purchases
Snack and beverage for a "school year launch party"
or "mid-year pep-up party"
Here's an idea for a back-to-school service project that would be a blessing as school resumes, or any time, for that matter: adopt a teacher!
Choose a classroom teacher and organize a mini "mission trip" into his or her classroom. Offer to be extra hands and feet to do those little extras that can make things so much more enjoyable in a classroom.
Consider helping a kindergarten or first-grade teacher, or even a preschool teacher, especially in a low-income neighborhood, because in some ways they have the biggest challenge of all teachers - making those early educational experiences great.
You can do a little fund-raising first if you need to. Make dry-mix snack bags and sell them, or wash cars, or walk dogs, or ask a local business to sponsor you.
This works best as a two-week project. In the first week, meet the teacher in the classroom, have a quick tour, and find out what he or she needs.
Maybe it's hot-gluing pompoms to the ends of dry-erase markers to be instant erasers.
Or maybe it's punching holes in decks of math flash cards and connecting them with ring binders.
Cutting out shapes for a bulletin board, counting out container lids as math manipulatives, or any number of other time-absorbing tasks would be a great boost to a teacher, to have extra hands do.
If the teacher can't think of any, let the teacher choose from any of these ideas:
http://classroomcollective.tumblr.com/tagged/Classroom%20Tricks
Or come up with your own!
Then fulfill the assigned tasks, and meet with the teacher, perhaps one week later, and give your classroom aids to him or her.
Share a snack and beverage with the teacher as a "school year launch party," or a "mid-year pep-up." You won't believe how much this would mean to a teacher . . . so try it!