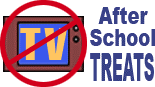 SEND DONATIONS*
WITH CAMP FIRE IN THE MEMO LINE TO:
AFTER SCHOOL TREATS, INC.
P.O. Box 995
Elkhorn, NE 68022
* Tax-deductible, 501(c)(3)
Mini-Grant #6: CAMP FIRE USA
2566 St. Mary's Ave.
Omaha, NE 68105
397-5809
Camp Fire USA serves nearly 20,000 Omaha-area girls AND boys in 17 inner-city locations. Camp Fire's well-qualified staff provide mentoring and programs geared toward helping disadvantaged children and teenagers with their academic, social and emotional development.
After School Treats is committed to providing funding for field trips, art supplies, disposable cameras, gardening supplies, soccer equipment, afternoon snacks, and the "weekend backpack" program that sends home nutritious food for the neediest children and teens.
Visit http://campfireomaha.org for more information, and consider funding a mini-grant today!
After School Treats Mini-Grants:
After School Treats activities:
1. For the Camp Fire after-school group that meets at Walnut Grove Elementary School in northwest Council Bluffs, 10 crafts activities, games and science experiments from www.AfterSchoolTreats.com were provided in February 2009. A call has gone out for an After School Angel to coordinate future grants and field trips for this group.
2. Another set of 10 activities were to be provided for the Camp Fire group that meets at Camp Fire headquarters in south downtown Omaha in mid-March.
3. Another set of 10 activities was also bound for a Camp Fire group from a low-income neighborhood in Council Bluffs, including a mini-field trip in April to go swimming at the Downtown Omaha YMCA.
A Holiday Experience: After School Treats provided dinner at the Old Market Spaghetti Works for 10 middle-school aged Camp Fire students and 2 leaders, followed by carriage rides by M&J Carriage Service, www.mjcarriage.com, and ice skating at the ConAgra rink, topped off by hot chocolate! Students wrote stories and poems about their dream evening.
FUNDED ($350) in honor of Omaha area volunteer leader and Camp Fire supporter Dawn Dinsdale, and in memory of a beautiful and creative Bluebird from Sunset Hills Elementary School in the 1960s, Sara Barchus.
WEEKEND BACKPACKS:
Fill four backpacks with nutritious weekend food for $25.
Donors:
AFTER-SCHOOL SNACKS:
Healthy, nutritious snacks, including the students' favorite: fresh fruit!
Donors:
SUPPLIES:
Help build the inventory for crafts, experiements and supplies. Any amount would be much appreciated!
For more information about becoming an After School Angel for a Camp Fire group, please contact susan@afterschooltreats.com