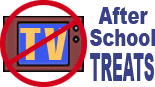 African Folk Tale: Make Anansi the Spider
            Today's Snack: Another folk tale involving a spider is about Little Miss Muffet, who sat on a tuffet (kind of like an ottoman or cushion), eating her "curds and whey." That's pretty close to fruit-flavored yogurt with a spoonful of granola on top - though OURS sounds LOTS better. So have your modern-day "curds and whey" with a glass of milk.
--------------------
Supplies:
Library book, "Anansi the Spider"
Scissors | 4 giant pipe cleaners | 1 pompom
Glue | Paper punch | Colorful paper scraps
            The people of Ghana, a country in West Africa, have a favorite folk tale. A folk tale is a story that isn't often written down. Usually, it is told aloud down through the generations, and everybody remembers it from year to year, and maybe adds a little of their own extras as they tell it.
Imagine a storytelling session around a campfire or at your fireplace, with your great-grandma and your grandma and your mom and brothers and sisters and friends . . . folk tales are really fun, both to tell and to hear.
A folk tale didn't really happen, but in your imagination, it COULD have happened, and that makes it magical and fun.
People made up folk tales to try to explain things in the world to children, or to express joy and happiness. It's a great way for a culture to hand down its beliefs and traditions from one generation to the next. Lots of times, a folk tale was a culture's best explanation or guess about things that we didn't have enough science and technology to really understand.
A lot of folk tales are about animals which have super powers. The people of Ghana, who are called the "Ashanti" people, tell one about a spider named "Anansi."
Notice the gorgeous art work in the book. These illustrations are based on the graphic arts of the Ashanti people. They are famous for their bold, colorful designs on the silk fabrics that they weave for clothing and decorations. They use a lot of symbols to represent things they could see in nature.
Now make your own Anansi or a new spider creation. It will help you remember this story! You can use it to act out the Anansi folk tale for someone else, or make up a new one all your own:
1. Line up four pipe cleaners of equal length, side by side.
2. Grasp them with both hands, and tightly twist them together in the middle, twisting three times.
3. Now take each of the eight "legs" one at a time, and bend it up and fold it in half. Press tightly on the fold to make it like a spider's leg joint.
4. At the bottom of each spider "leg," bend a little foot outwardly so that the spider will stand up.
5. Repeat that process for the other seven legs.
6. Bend the legs around and work with your creature until it will stand straight up.
7. Glue or hot-glue a pompom to the front midsection to be the body/head.
8. To make your spider look more like Anansi, or a new friend for him . . . punch out and cut out eyes, eyebrows and other graphic details of Anansi's body as seen in the illustration from the book, and glue or hot-glue them onto your spider.