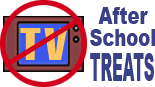 African-American Achievers
Today's Snack: In honor of George Washington Carver, enjoy a double dose of peanuts, the focus of his amazing scientific career. Have a handful of whole peanuts and crack the shells to get the nuts out . . . then have a peanut butter sandwich with jelly, honey or whatever you like, remembering that Dr. Carver was the first person to make peanut butter! Wash down all that sticky peanutty goodness with a tall glass of milk.
--------------------
Supplies:
Library | Encyclopedia | Internet search engine | Reference books
             One of the best ways to learn about history is to study biography. That's the life story of someone. There are important lessons to be learned, and role models you should know about. Try to make it your habit to read one biography every month. By the end of your schooling, you should know about a LOT of interesting people, and how they achieved success.
There are a lot of African-Americans whose biographies are inspiring and exciting. It would make a great Black History Month project to read up on each of these heroes and write a paragraph about each one.
Include the year of his or her birth and death so you can keep each person's life in perspective of what was going on in American history during that life span.
When you have finished all the paragraphs, be sure to share them with other students, your family, and everyone else, because these great people did things for ALL of us!
Benjamin Banneker
Elizabeth Freeman
Phillis Wheatley
David Walker
Sojourner Truth
Maria Stewart
Solomon Northup
Frederick Douglass
Harriet Tubman
Robert Smalls
Daniel Hale Williams
Booker T. Washington
George Washington Carver
Ida B. Wells-Barnett
Mary Church Terrell
Matthew Henson
Scott Joplin
W.E.B. DuBois
Bessie Coleman
Marian Anderson
Louis Armstrong
Langston Hughes
Thurgood Marshall
Jesse Owens
Rose Parks
Daisy Bates
Gwendolyn Brooks
Jacob Lawrence
Jackie Robinson
Alex Haley
Shirley Chisholm
Andrew Foster
Martin Luther King, Jr.
Faith Ringgold
Alvin Ailey
Colin Powell
Wilma Rudolph
Oprah Winfrey
Denzel Washington
Mae Jemison