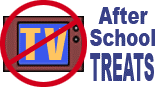 Mexican Confetti Eggs
                        Today's Snack: Pile cheddar cheese on a tortilla, broil, roll up and eat!
_______________
Supplies:
Empty, cleaned-out, dry eggshell - over ½ of shell left
Different colors of tissue paper
Scissors
Paper punch
Glue
Paintbrush
            Cascarones are Mexican confetti eggs. They are a fun thing to make and then go outside and break - on purpose! Usually, Mexican children and those in the southwestern United States play with cascarones around Easter time. But they are fun any time of the year.
The idea is to decorate an empty eggshell, fill it with tiny bits of tissue paper, and then run around outside and crack the egg open over somebody's head, letting the paper confetti fall on their head and giving them good luck!
Crack an egg so that more than half of the shell is left. Or try poking a hole in one end with a thumbtack, and making a hole the size of a dime on the other end. Stick a toothpick in and break the yolk. Then, working over a bowl, blow into the smaller hole so that the yolk and white drop into the bowl. Make scrambled eggs out of them! They'll keep in the fridge for a few days.
Rinse water through your egg and let dry.
Cut all different colors of tissue paper into tiny squares. Paint glue over the outside surface of the egg, and stick tissue paper squares on the glue. Let dry in egg carton. Meanwhile, make confetti out of tissue paper by cutting even smaller pieces - as small as you can - or using a paper punch or shredding machine.
When your eggshell is dry, fill it with confetti from the larger opening, and put a piece of tape over the opening. Then go outside and have fun!
Remember, don't actually crack the egg on someone's head. That could hurt. Instead, put your hand over the person's head and crack the egg with your own hand, letting the confetti bits fall all over the person's head.