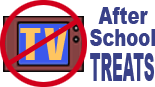 Halloween Party Fun Food
Today's Snack: Choose from any of these fun recipes below, and gather your friends to make one or more of them together. You'll have to make parts of some recipes in advance. Combine these recipes with your own creations and favorites for a Halloween party that's so much fun, it's scary!
Orange Punch:
One 14-ounce can sweetened condensed milk
One12-ounce can frozen orange juice concentrate, thawed
Orange food coloring
Two 1-liter bottles club soda or ginger ale, chilled
Orange sherbet
In a punch bowl or other large, wide bowl, combine sweetened condensed milk and orange juice concentrate. Tint with orange food coloring, if desired. Add club soda. Top with small scoops of orange sherbet. Serve immediately. Makes 16 servings.
Worm Punch
One 6-ounce can frozen pineapple-orange juice concentrate
Chewy, fruit-flavored candy worms
One 12-ounce can frozen pineapple-orange juice concentrate
One 12-ounce can apricot nectar, chilled
Two 12-ounce cans lemon-lime carbonated beverage, chilled
Make ice up to two weeks in advance, or at least several hours before the party. To make ice, mix water with one 6-ounce can frozen pineapple-orange juice concentrate according to package directions. Arrange gummy worms in the bottom of a 4-cup ring mold (usually used for Jell-O). Pour juice into mold to almost cover worms. Do not allow the worms to float. Cover and place in freezer for 1 hour or until frozen. Add remaining juice. Cover and freeze until firm.
At party time, in a small punch bowl, prepare the 12-ounce can pineapple-orange juice concentrate according to package directions, using cold water. Stir in the apricot nectar. Add the carbonated beverage, stirring gently. Unmold the ice ring by running cool water over the outside of mold. Add ring to punch. Serves 10.
Blue Slime
1 6-ounce package blueberry-flavored gelatin
3 cups lemonade, chilled
3 cups lemon-lime carbonated beverage, chilled
2 cups boiling water
4 cups cold water
In a large mixing bowl, combine gelatin and two cups of boiling water. Stir until dissolved. Stir in 4 cups of cold water. Cover and chill at least 4 hours. Gelatin will be partially set.
To serve, stir gelatin with a large spoon, fork, or wire whisk until gelatin is broken into small pieces. Place 1/4 cup of the lemonade in a large, clear glass or plastic tumbler. Add 1/2 cup of the gelatin to the lemonade, then add 1/4 cup of the carbonated beverage.
Stir slightly until it's slime. Makes 12 servings.
Pumpkin Muffins
Nonstick spray coating
1-1/3 cups all-purpose flour
3/4 cup buckwheat flour
1/4 cup sugar plus 2 packets heat-stable sugar substitute, or 1/3 cup sugar
1-1/2 teaspoons baking powder
1 teaspoon ground cinnamon
1/2 teaspoon baking soda
1/2 teaspoon salt
2 slightly beaten eggs
1 cup canned pumpkin
1/2 cup fat-free milk
2 tablespoons cooking oil
1/2 teaspoon finely shredded orange peel
1/4 cup orange juice
Spray twelve 2-1/2-inch muffin cups with nonstick coating; set pan aside. In a medium bowl combine the all-purpose flour, buckwheat flour, sugar plus sugar substitute or the sugar, baking powder, cinnamon, baking soda, and salt. Make a well in the center of flour mixture; set aside.
In another bowl combine the eggs, pumpkin, milk, oil, orange peel, and orange juice. Add the egg mixture all at once to the flour mixture. Stir just until moistened. Batter should be lumpy.
Spoon batter into the prepared muffin cups, dividing the batter evenly. Bake in a 400 degree oven for 15 to 20 minutes or until the muffins are light brown. Cool in muffin cups on a wire rack for 5 minutes. Remove from muffin cups; serve warm. Makes 12 muffins.