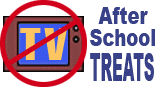 Milk Jug Spooks
            Today's Snack: Popcorn Balls! Definitely make them with a parent or other adult, because you can burn your hands using the really hot syrup to form the popcorn balls.
You can use pre-popped popcorn out of a bag, or pop your own. You will need 18 cups. Pour the popcorn into a big container such as a roasting pan, clean plastic storage tub, or big bowl. There should be a little room on the edges so the popcorn doesn't spill over when you mix the syrup.
Now butter the sides of a 2-quart saucepan, and pour 2 cups of granulated sugar and 1 cup of water into it. Stir. Add ½ cup of light-colored corn syrup (brand name Karo, for example), 1 teaspoon of vinegar and ½ teaspoon of salt. Stir together.
Heat over medium-high heat until the mixture boils. Keep stirring. This may take six or seven minutes.
When it's boiling rapidly, clip a candy thermometer to the side of the pan. Reduce heat to medium and keep boiling, stirring occasionally, until the thermometer registers 250 degrees. That should take 20 to 30 minutes.
Take off the stove, remove the thermometer, and stir in the vanilla. It may foam up a little, so be careful. Now, while it's still really hot, pour the syrup mixture over the popcorn (it will stick better if the popcorn is hot). Stir with a big spoon gently, so you don't break the popcorn. Try to spread the syrup all around.
Let cool a few minutes, and butter your hands before you form about 20 popcorn balls. The butter will protect your hands from being burned.
If you wish, you can put gummy bugs or candy corn into your hands before you grab the popcorn, so that they will be formed on the outside of the popcorn balls and make them more festive. You can also put food coloring into the syrup along with the vanilla.
Let cool on waxed paper. Wrap individually with plastic wrap. Makes about 20.
--------------------
Supplies: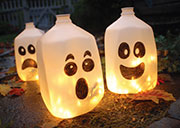 Clean, dry plastic milk jugs with lids
Black permanent marker pen
Utility knife
Scissors
Inexpensive white, low-wattage Christmas strings of lights
Electrical power source
Draw ghost eyes and mouth on the side of each milk jug. If you leave the caps on while you do this, the jugs won't dent. There's a reason in physics why that is. Can you guess? Has something to do with air pressure.
Now use the utility knife (have an adult supervise, or do this for you, so you don't get injured) to cut a hole an inch or two wide near the bottom at the back.
Stuff some lights into each jug through the hole in back. You can spread your "ghosts" out more in your front yard if you use a power strip and have just one string of lights for each milk jug. Or you can stretch one string of lights to three jugs successfully, but they'll have to be close together.
Plug in to an outside outlet. Don't forget to turn them off every night before you go to bed, to save energy.
Have fun and surprise your Halloween visitors!