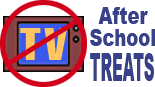 Red Cup Bowling
Today's Snack: Eat a red apple with a piece of bread with strawberry jam on it, and wash it down with some red Hi-C Fruit Punch. But be careful: that red punch is tasty, but it STAINS!
----------------
Supplies:
20 16-oz. red plastic drink cups
Duct tape
Painter's tape or masking tape
Soccer ball or tennis ball
A piece of paper and pencil to keep score
Let's bowl! You can make your own bowling pins that are surprisingly sturdy and should last through several bowling sessions.
Place one red cup upside down on top of another, and duct-tape them together. They should kind of, sort of look like bowling pins.
If you start off with 20 cups, and use two per bowling pin, how many bowling pins will you end up with? Ten? Very good!
Now on one end of the room or hallway, make tape marks for your bowling pins. As with a real bowling alley, you're going to make four rows of pins. There will be only one in the first row, two staggered behind it in the second row, three staggered behind those two in the third row, and the back row will have four.
The closer you put the marks together, the easier it will be to get a "strike." You can experiment with putting the marks pretty far apart to test your skill.
Put a little piece of painter's tape or masking tape on the floor to mark the spot where you're going to place each pin.
Now move as far away from the bowling pins as you can - far enough to make it pretty challenging, but not so far that it's impossible. Lay down another line of tape and remember that the bowler can't cross that line.
Then bowl! Remember, you get two tries for each turn. If you have a partner, he or she can wait down by the pins, and clear away any you got down the first time and roll the ball back to you for your second roll.
Give yourself 30 points if you get a "strike" (knock all 10 pins down) on the first try, or one point for every pin you knocked down on the first try. If you get a strike on the first roll, your turn is over.
If you have some remaining pins, and knock them all down with your second roll, that's a "spare." That's worth 20 points. So let's say you knocked down 4 pins on your first roll, and got the remaining 6 down on your second roll. Your score would be 20. But if you knocked down 4 pins on your first roll, and got another 4 down on your second roll, your score would be 8.
The idea is to get strikes and spares, but every point counts!
Each player gets 10 turns. Have fun!