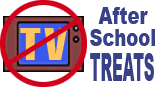 Fitness Calendar
Today's Snack: Have a power-packed bowl of beautiful, bodacious broccoli. Cut yourself some nice, big broccoli spears and soak them in an icewater bath for a few minutes for maximum crunch. Serve with low-fat ranch dressing. The more enjoyable the eating experience is and the longer you linger over your healthy snack, the less you'll miss high-fat, high-sugar treats that don't take as long to eat, but aren't as good for you, stay in your body longer, and keep you from feeling fit.
----------------
Supplies:

Any kind of calendar, whether it's a big wall calendar, a small desk flip calendar, or a dinky one that'll fit in your purse or a drawer
You know you're trying to do your best in school so that you can continue your education, get a good job, and have a successful life many years from now, when you're a grownup.
If you're an artist or a musician, you know that your long hours of practice as a kid are going to pay off, bigtime, years from now, if you're still doing that art or tooting that horn.
It's the same thing with job training: anybody who starts a new job has to be in training first, and sometimes, it can take a long time before you get really "good" at it. Developing habits, knowing what to do, and practicing over the course of many years, are all part of any developmental process.
But have you ever thought about fitness in the same way?
The physical habits that you're forming as a child or teenager are going to wind up forming YOU, as you will be, many years from now. Literally! The shape and condition of your body will be directly connected to the food that you put into your body over the years, and how you decided to use - or not use - your body, to exercise it and develop it.
So what are you "in training" to be?
A "fitty"?
Or a "fatty"?
The best way to make sure you are not overweight and unhealthy in your 20s and beyond is to do the things it takes to NOT be overweight in your childhood and teens, research is showing.
If you're an overweight child or teen, you're much more likely to become an overweight adult. Even if you're a teenager and your weight is in the normal range, if you don't exercise, you're much more likely to have weight problems as an adult, the research is showing.
Doing sports and exercising, in and out of school, two or three times a week protects adolescents from becoming overweight young adults, according to a study published in the Archives of Pediatrics and Adolescent Medicine in January 2008.
That means if you're smart and want to wind up as a fit and healthy adult, you ought to be riding your bike, roller-blading, skateboarding, playing basketball, or otherwise getting out there and getting physical, as much as you can, while you're still a kid.
You can be a leader in your family and invite your siblings and parents to come with you! It will help them choose to be a "fitty," too. Besides, it's fun.
Here's a simple way to keep yourself on course:
Every time you do something for your fitness, mark it down with how much time you put into it on a special "fitness calendar." You can use a calendar you're already using, of course, or keep a special one just for this purpose.
You can color-code your fitness activities, or draw a little picture to illustrate each one. For example, every time you rollerblade, you could draw a little green skate with "30 min." next to it. You could choose a brown marker and a little football to show time you put into football practice, or draw a little orange basketball for time you spent at that sport.
At the end of the year, add up how much time you spent doing all these good fitness activities. And then promise to beat your records NEXT year!
Keep your fitness calendars, and someday, when you're old and gray - and in really good physical shape - you can look back on them, and smile.
© 2008