Funny Face Sandwiches
Supplies:
One piece of whole-wheat bread per student
Fruits, vegetables, peanut butter, cereal, jelly, honey, seeds, nuts, raisins
Spreading and cutting knives, cutting board, vegetable peeler and adult supervision
            Let kids get creative with a snack that will make them smile, inside and out.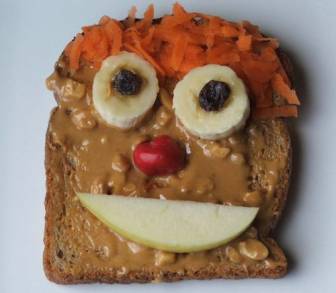 Set out the supplies for kids to make a funny face sandwich. Don't show them this photo unless they get stumped for ideas. Tell them to try to have at least five different types of food on their face, to make it really fun to eat.
            They can do unexpected things like stir Rice Krispies or Cheerios into peanut butter, or cut veggies into shapes you've never seen on a real human face before.
            When you make healthy food fun, you're 'way ahead in the nutrition game!