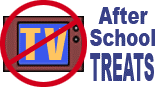 Cinnamon Rolls
Today's Snack: Here's a great recipe that you can make for a special occasion, such as Mother's Day. What a memorable gift it would be to give Mom the day off in the kitchen! She might want to help you with these, or your dad or another helpful adult or older sibling could show you the ropes.
Although there's milk in today's recipe, below, not much else is very nutritious. So for a well-rounded snack or meal, add a little protein - a strip of bacon, a fried egg - and a large bowl of cut-up fresh fruit, plus a glass of fruit juice alongside a glass of milk. Sweeeeeet!
--------------------
Supplies:
Recipe ingredients (see below) plus:
Muffin pan
Mixing bowl
Small bowl
Measuring cups and spoons
Rubber spatula
Rolling pin
Ruler
Knife
Hotpad
Wire cooling rack
Shortening
2 C. Bisquick Original baking mix
2/3 C. milk
Flour or additional Bisquick
Margarine or butter, softened (about one stick)
¼ C. white, granulated sugar
1 tsp. ground cinnamon
            1. Preheat oven to 425 degrees.
            2. Wash and dry your hands!
3. Grease the 12 muffin cups in your muffin pan with shortening. Dab a little shortening onto a paper towel, and spread it on the inside of each cup so that no dry surfaces remain. You will probably use about ¼ C. of shortening altogether in the greasing step.
            4. In a mixing bowl, mix 2 C. Bisquick baking mix and 2/3 C. milk. It will make a soft dough.
            5. Sprinkle flour or more Bisquick onto a clean surface such as a kitchen counter or breadboard. The flour keeps the dough from sticking. If it does stick during preparation, sprinkle more flour onto the surface or onto the rolling pin, if you're using one.
6. Put the lump of dough onto this surface. Pat a little flour or extra Bisquick onto your clean, dry hands. Roll the dough around, three or four times, into a ball. Then knead it.
That's pronounced "need." To knead dough, you press down on it briefly and flatten it out somewhat, then fold one end over the other, and give it a quarter-turn. Then you knead it again.
            7. Knead your dough, quickly and with some muscle power, 10 times.
            8. Then, either with a floured rolling pin or by patting it with your floured hands (does "patty-cake" sound familiar? this is where the line of that old nursery rhyme comes from), form it into a rectangle that's about 12" long and 7" wide.
            9. Hold a ruler above your rectangle to check that it's about as thick as it's supposed to be.
            10. Now spread the top of the dough with softened margarine or butter, as you would spread peanut butter on a piece of bread. Use probably about the same as one stick of butter or margarine, or ½ C.
            11. In a small bowl, mix ¼ C. sugar and 1 tsp. ground cinnamon.
12. Then sprinkle the cinnamon-sugar mixture over the butter layer on top of the dough.
            13. Now comes the fun part! Roll the dough up tightly, starting at the 7" end of the rectangle - the long end, not the wide end. Try to make it as tight as you can. Now can you see why we call these treats "rolls"? You literally ROLL the dough to form them!
            14. With your fingers, pinch the edges of the roll of dough to seal it, to keep the sweet stuff inside.
            15. With a sharp knife (and you might need an adult to do this part), slice the dough into 1" slices, or rounds. Each one will be a circle, with spirals of cinnamon-sugar inside.
            16. Put each slice into a greased muffin cup.
            17. Bake about 15 minutes, or until brown.
            Oooooh! It'll smell good!
            18. Using a hotpad, and again, you might want an adult to do this step, remove the muffin pan from the oven, and set it on a wire rack to cool.
            Now eat. Mmmmmmm!