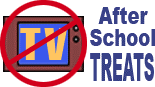 Brain Food
Today's Snack: Choose three things from the "Brain Builders" list at the left, below. Now put them into the same bowl in the wackiest combination you can eat! And then . . . eat and enjoy!
--------------------
Supplies:
One piece of poster board
Colorful markers
Some foods help the brain work better. But some foods drag down brain performance. Naturally, you'll want to eat more "Brain Builders," and avoid the "Brain Drainers."
Draw a colorful poster that illustrates this. You might show two sides - one with the "brain building" foods, and the other with the "brain draining" foods.
Consult an encyclopedia or other reference book for what some of these foods look like!
BRAIN BUILDERS

BRAIN DRAINERS

·  Avocados

·  Bananas

·  Beef, lean

·  Brewer's yeast

·  Broccoli

·  Brown rice

·  Brussel sprouts

·  Cantaloupe

·  Cheese

·  Chicken

·  Collard greens

·  Eggs

·  Flaxseed oil

·  Legumes

·  Milk

·  Oatmeal

·  Oranges

·  Peanut butter

·  Peas

·  Potatoes

·  Romaine lettuce

·  Salmon

·  Soybeans

·  Spinach

·  Tuna

·  Turkey

·  Wheat germ

·  Yogurt

·  Alcohol

·  Artificial food colorings

·  Artificial sweeteners

·  Colas

·  Corn syrup

·  Frostings

·  High-sugar "drinks"

·  Hydrogenated fats

·  Junk sugars

·  Nicotine

·  Overeating

·  White bread