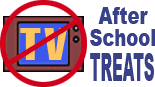 Original Giftwrap
            Today's Snack: Naturally, since we'll be making giftwrap today, our snack ought to be a WRAP SANDWICH! First, heat up one burrito-size tortilla between two paper towels in the microwave for about 15 seconds on medium power. Then put your favorite meat, cheese and lettuce in a pile on one side of the tortilla. Maybe you'll want to add mayonnaise or mustard or other ingredients. Then, fold in the two sides a little bit. Finally, roll it up. That's a wrap! Now, eat!
--------------------
Have you priced ready-made giftwrap these days? The paper, bows and bags may cost as much as the gift you're giving. It's out of control!
But here's a way to fight back: get a group of kids together, and have them make your own designer giftwrap. You will enjoy using it twice as much: not only will it be pretty, but it will be CHEAP!!!
            But how do you get the paper? Well, you can use plain white wrapping paper from the grocery store, hardware store or office supply store. It's usually cheaper than printed giftwrap.
You can use also decorate plain white tissue paper, which is also cheaper than thicker, pre-decorated paper.
Or you can find freebies! You can call your local daily or weekly newspaper or a printing company and ask for the end of a roll of newsprint, if you'd like to make extra wide paper. When they change rolls, there often is a length of paper left on a roll that they're only going to throw away.
            Similarly, an architect's or engineer's office may give you a roll of their drawing paper or scanner paper for that purpose, if you ask and say it's for kids. That might combine well with a mini-field trip to their office, too.
            Another alternative: paint over paper grocery sacks, either intact or taken apart.
And you can buy solid-color gift bags at party stores or stationery shops that are fairly inexpensive, and go to work adding your special touches to make them gorgeous and distinctive.
            Use tempera paint, markers, crayons or colored pencils. Set out glue and bits of ribbon, fabric, sequins, buttons, feathers, glitter, and whatever else trips your trigger.
An interesting 3-D look is achieved with combined media, such as paint and glitter, with glued-on serendipity, such as little game pieces and toy parts from your "lost drawer," painted dry pasta, and so forth.
Here are three ideas that work great at Christmastime and for birthdays year-round:
Colored Rings Paper
Pour a pretty color of acrylic paint onto a plastic plate. Dip the end of a paper towel tube in the paint. Then "stamp" the circle onto plain wrapping paper. You can dip the other end of the tube onto another plate with another color, to make a pattern or just for interest. Overlap the circles so that they "link." Let dry.
Tie-Dyed Tissue Paper
Fold tissue paper into squares, rectangles and triangles. In a teacup, mix one-fourth cup water and 10 drops of food coloring. Dip the corners of the folded tissue paper into the colored water. Open flat to dry.
Pierced paper
This looks beautiful on wrapping paper that is a solid color, from white to red to light blue. First, lightly draw a design or pattern on the paper, or trace a shape onto it that you want to follow. Next, place the paper over a piece of carpet, or actually on a floor that is carpeted. Now, carefully pierce holes with a toothpick, following the lines you drew for your patterns or shapes. Leave a gap between the holes.