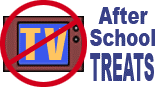 Penguin Lightbulb
Today's Snack: It's a good idea to avoid chocolate cookies as much as you can at snacktime, because they'll make you fat and sassy. But when the subject of the day is penguins, the mind just naturally turns to whatever is black and white, and naturally, the snack response is . . . OREO cookies! They're black and white, and everyone loves them. So . . . they're a perfect match for penguin talk. Go ahead and indulge in some of these much-loved cookies. Just sock down at least 8 ounces of skim milk to give yourself at least some health benefit. And don't eat too many Oreos . . . or you may be waddling like a penguin!
----------------
Supplies:
Burned-out lightbulb
Hot-glue gun
Metal jar lid (from canning jar, for example)
Masking tape
Polymer clay or other clay, black, white and orange
Child's glove or sock
Tiny pompoms
Rubbing alcohol
Acrylic paint, white and black
Orange toothpick or orange craft foam
Black cardstock or black craft foam
Clean the bulb with soap and water. Dry thoroughly. Hot-glue the jar lid to the widest part of the bulb so that it will stand on its own. You can use a metal juice lid or the plastic ring left over from a tape dispenser for extra stability.
Using masking tape, cover the ridges of the neck of the bulb.
With the acrylic paint, paint the belly white and the rest of the bulb black. Study the penguin picture, and make the shapes of your paint sections conform with a basic white, heart-shaped face for the penguin with a white, hourglass-shaped front of its "body." You can paint on the facial features if you don't think you want three-dimensional ones made out of other materials. Let dry.
With the clay, make feet, beaks, wings, etc. A spray of light varnish may be applied.
If clay isn't available or if you prefer, young children might enjoy making beaks out of an orange toothpick, eyes out of pompoms, scarves and hats out of a child's old glove or sock, and feet out of black cardstock or craft foam.
A "rookery" is a penguin's rocky habitat. It's fun to use natural rocks and other materials to form a "rookery" in which to display the bulb penguin.