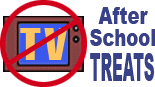 CAREERS:
The Stock Market Game
            Today's Snack: Since we're learning about the STOCK Market, try a bowl of hot chicken STOCK and your favorite flavor of muffin.
--------------------
Supplies:
Internet access
Here is a great activity for before-, during or after-school to help you learn about investing and the stock market, practice your math skills, and perhaps make a career choice somewhere in the finance world or the business world:
If you are in the game, you are eligible for the InvestWrite competition for students in grades 4-12. The competition is in the fall. You answer a prompt and write an essay with an innovative, real-world solution to the problem. Last year's awards were an MP3 player, a certificate, and a big cake to share with your classmates!
http://www.investwrite.info/faq.aspx