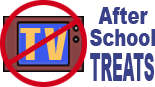 Wish Puzzles
            Today's Snack: Let's make Sandwich Puzzles. With whole-wheat bread and your favorite luncheon meats and sliced cheeses, make yourself a sandwich. Now, with a sharp knife, cut it into five or six geometric shapes - rectangles, squares, triangles, parallelograms. Carefully scatter the pieces around on a plate. Now "solve" the puzzle by putting the pieces back together again - and eat your sandwich!
--------------------
Supplies:
Old magazines, catalogs and greeting cards
Download and print out clip art of various objects
Stickers and stamps
Two pieces of white cardstock
Pencils
Gluesticks
Scissors
            Be careful what you wish for - because you just might get it! Talk over with your partner the kinds of things that you used to wish for, when you were younger. Anything goes: maybe you wished for a later bedtime? A younger brother? That your dad didn't have to be overseas? That you could have a red sports car?
            Now talk about the kinds of wishes that you are having now. They might be about you or your friends, or your nation or the world. Try to come up with as many things as you can.
            Now think over all those wishes, old and new, and come up with the one wish that you really, really want to come true.
            Keep it in mind, but don't tell your partner.
            Now go through the old magazines, catalogs, greeting cards, clip art, and anything else you can see, and cut out pictures that might have anything at all to do with your wish. Maybe it's someone with a funny expression, or objects that would go inside a car if that's your wish - whatever catches your eye and seems to express something about your overall wish.
            Once you think you have a pretty good collection of these cut-outs, turn your back on your partner so that he or she CANNOT see what you're doing. Each of you should have a piece of cardstock and a pencil. Now draw a large picture on your cardstock that represents your main wish. Make it take up almost the whole page. Make sure there's room inside the lines for you to attach some of the pictures you've cut out, that represent that wish.
Let's say your wish is for a car - draw a car. Inside the car, paste pictures of car parts that you might have cut out - cool-looking rims, a steering wheel, a bike rack - whatever.
Let's say you wish for world peace. You could draw a big circle representing the Earth, and inside it, paste pictures that represent peace, such as two people shaking hands, a sunset, puppies sleeping, or whatever you liked in the magazines and so forth.
When you're ready, then cut your paper apart with rounded or jagged edges into about 10 pieces - like a jigsaw puzzle.
Turn the pieces upside-down and mix them all around.
When both you and your partner are ready, then go and "solve" each other's wish puzzles by putting the pieces back in order, and guessing what each other's wish is.
Keep in touch with that partner and let him or her be the FIRST to know, some day, when your wish comes true!