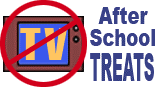 Transitions = Creative Change
            Today's Snack: One of the best things you can eat is an egg. One of the reasons an egg is so much fun to eat is that you can eat it in so many different forms. You can crack a whole egg into your orange juice in the morning and stir a little, for a little extra protein. You can cook it sunny-side up, over easy, poached or scrambled. You can hard-boil it, or mix ingredients with a boiled egg yolk to make deviled eggs. Yes, eggs go through lots of transitions before they make that final transition into our tummies. So have an egg today for snack . . . for a CHANGE.
--------------------
After School Treats notebook and pen or pencil
            One of the biggest rules of science is that things change. Everything that is, whether alive or not alive, will change over time. The way things change, and why they change, are the focus of almost all scientific study.
So change is universal. Understanding change helps us understand how the universe works. Scientists often call changes "transitions." A "transition" is a word for change from one state of being to another.
            Let's list some things that make transitions:
· Caterpillars transition into butterflies
· Green leaves transition into red ones
· A young person transitions into being an old person.
· A joke changes a frown into a smile.
· Ironing makes laundry disappear.
· Reading transitions knowledge from the page of a book into your brain.
            How many transitions can YOU list?
            In your notebook, make category headings such as Nature, your household, friendships, school, and your favorite sport or hobby. Then try to list 10 transitions that occur in those categories.
            See how prevalent transitions are? Has this exercise CHANGED your mind about them?