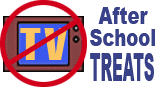 The Biology of Household Dust
            Today's Snack: You'd better have it before you look at the picture that goes with today's exercise. For snack, crush a few graham crackers into "dust" and let your mouth be the human vacuum!
--------------------
One stick of butter or margarine
Dustcloths
Magnifying glass
Almost every home has dust. But once you know what's in it - things that are ALIVE, or used to be - maybe you'll be better about helping out doing the dusting so that you can put a little more separation between yourself and the Creatures of the Dust.
House dust mites are found in most homes. They are microscopic, eight-legged creatures closely associated with us, but they are not parasitic and do not bite. They don't burrow under the skin, like scabies mites or live in skin follicles, like skin follicle mites. Dust mites go from being an egg to being an adult in just three or four weeks, so you can see how they can accumulate quickly as their "generations" are spaced so closely together.
The concern about dust mites is people are allergic to them. Symptoms associated with dust mite allergies include sneezing, itchy, watery eyes, nasal stuffiness, runny nose, stuffy ears, respiratory problems, eczema and (in severe cases) asthma.
Many people notice these symptoms when they stir dust during cleaning activities. But, dust also contains other allergens, including cat and dog dander, cigarette ash, cockroach droppings, mold spores and pollen.
How can you find out if you're allergic to dust mites? An allergist, a medical doctor specially trained to treat allergies, should be consulted for proper diagnosis.
The dust mite allergen is their tiny feces and body fragments which are components of dust. These particles are so small they can become airborne and inhaled when dust is disturbed.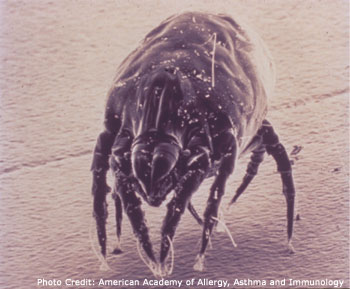 House Dust Mite (highly magnified)
How can you make your home not very friendly to dust mites, so they won't live there? Keep it cool and humid. To thrive, dust mites need very warm temperatures (75-80 degrees F) and high humidity levels -- 70-80 percent relative humidity. One study showed when humidity is 60 percent or lower, the mite population stops growing and dies out. Another one showed that if you use an electric blanket, the dust mites will disappear, since that's a dry warmth, and they like a more humid warmth.
Humans continually shed skin and lose about 1/5 ounce of dead skin each week. To find out how much that is, look at a 4-ounce stick of butter or margarine. About one-fourth of that stick, or 2 tablespoons, makes an ounce. Look at the size of the chunk that one ounce of butter is. Over five weeks' time, you will lose about that much dead skin.
Ewwwwww!
But be glad you do: out with the old to make room for the new.
Here's where the dust mites come in: we spend about one-third of our lives sleeping, and that's when a lot of our dead skin sloughs off. So high levels of dust mites are often associated with the bedroom, especially bedding and the mattress. Dust mites also eat animal dander so allergens will be plentiful in areas where family pets sleep.
What's the answer? Wash your sheets once a week! And launder your pet's blanket or rug! Don't let your pet sleep on your bed. When you dust furniture, use a little liquid product so you're not just moving the dry dust around from place to place. Vacuum floors and furniture regularly.
Now take dust cloths and go out and find yourself some dust. Then look at it with a magnifying glass. Can you identify any of these common "ingredients" in dust?
Cigarette ash
Incinerator ash
Wool, cotton, paper and silk fibers
Fingernail filings
Food crumbs
Glass particles
Glue
Graphite
Animal and human hair
Insect fragments
Paint chips
Plant parts
Pollen
Polymer foam particles
Salt and sugar crystals
Human skin scales
Animal dander
Soil
Fungal spores
Tobacco
Wood shavings