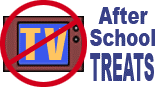 Kiddie Chemistry: Washing Coins
Today's Snack: If you cut a carrot into disks, some restaurants will call them "coins." So for today's snack, cut up a bunch of carrot "coins" and let your child dip them into low-fat ranch dressing.
--------------------
Old toothbrush
Dish soap
Water
2 bowls
Pennies and other coins
Dishcloth or paper towel
Salt
Vinegar
            Nothing's as fun to hold in your hand as shiny coins! But they get dirty so fast. Here's your chance to reinforce the importance of hand-washing with a small child. Even though we can't see it, dead skin cells from our hands are falling off all the time onto the things we touch and handle. There are oils that our skin secretes, and that gets on the coins, too. Then there's the whole universe of bacteria, germs and dirt that can get on coins in any number of ways.
These can discolor coins rather quickly. If they can discolor coins, you KNOW they are going to make your hands dirty. So anytime, but especially when you handle coins that have transferred from who knows how many people into your hands, you need to wash your hands afterwards!
            Another teaching moment: make sure your child knows never, ever to put a coin in his or her mouth. Not only are there germs and dirt on the coin's surface that can make your child sick or taste gross. But there's also a high risk that your child might accidentally swallow a coin. It could get stuck in your child's airway, or pass through and cause a bowel obstruction that could really hurt and even necessitate a trip to the emergency room. So - make sure your child gets in the habit of putting only FOOD in his or her mouth, never objects that AREN'T food, such as coins.
            For this activity, simply pour a few drops of dish soap into a bowl with some lukewarm water, and let your child brush the coins with the toothbrush and the soap solution.
            Then put a small amount of salt and vinegar in another bowl and drop the coins in. Watch the tarnish fade! Tell the child that what's happening is a chemical reaction. The vinegar is an acid that tends to eat away at the surface of the coin and clean away the dirt and grime. Salt does that, too, and the little salt crystals act as an astringent, rubbing and cleaning the coins, too.
Your child can scrub the coins with the toothbrush and vinegar-salt solution, too, but watch out that none of it gets into your child's eyes!
            When clean, your child can rinse with clear water and dry them.
            Now your child will have extra-shiny pennies to throw into the next wishing well!