Popcorn Snowmen
            Today's Snack: What we're making is edible, but it'll probably make you sad to eat your creation so soon. So make sure to form yourself a couple of small popcorn balls that you don't plan to use in your artistic efforts, but can . . . excuse the pun . . . POP into your mouth as you go along! Plus, there will be no doubt be extra edible supplies left over!
--------------------
To make six or eight popcorn snow creatures that double as a creative snack:
18 cups popped popcorn
2 cups sugar
1 cup water
½ cup corn syrup (such as Karo)
1 tsp. vinegar
½ tsp. salt
1 T. vanilla
Decorations:
white prepared frosting OR ¼ C. powdered sugar with a few drops water mixed into "glue"
pretzel sticks
raisins
M&M's
candy corn
mini jawbreakers
colored frosting in squeeze tubes
red licorice, cut thin
gumdrops or red hots
fruit leather or fruit by the foot or peel-and-pull Twizzlers
Fudge striped shortbread cookies
Large marshmallow
Melted chocolate almond bark or chocolate chips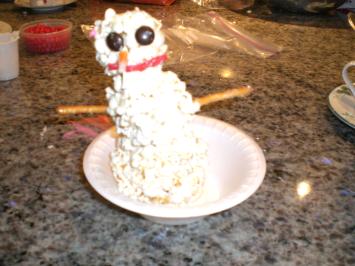 Put popcorn in large, greased roasting pan and keep it warm in the oven at 275 degrees or so while you're making the syrup.
            Butter the sides of a 2-quart, heavy saucepan. Combine sugar, water, corn syrup, vinegar and salt. Cook and stir over medium-high heat until mixture boils, about six minutes.
            Clip a candy thermometer to the side of the pan, or set timer for 20 minutes. Boil moderately, stirring occasionally, 'til thermometer registers 250 degrees, the hard-ball stage. It may take a few minutes more than 20. It should just begin to change colors from clear to yellowish. Stir in vanilla.
            Take popcorn out of oven. Pour syrup over it. Stir gently with a big spoon, to coat. Cool until it's still hot, but you can just barely touch it without it hurting.
            Rub butter in your hands. If you're going to form snowpeople, form three sizes of popcorn balls: small, medium and large. Squeeze together.
As a base, you can place your snowperson in a plastic or Styrofoam bowl, for support. Or place on top of a fudge striped shortbread cookie, chocolate side down. Be careful! It may lean, and you'll have to nudge it back so it'll stay straight.
            If you'd like pretzel-stick arms, push the pretzel sticks into the sides of the medium-size popcorn balls as you're forming them.
            While popcorn balls are still hot, you should be able to add decorations for eyes, nose mouth, buttons, etc., but if they won't stick, use white frosting or other edible "glue." You could use "glue" to make your popcorn creature stand up straight, too. Use squeeze or gel frosting for "hair" or other decorations.
            Of course, you could make other kinds of popcorn creatures or objects, and decorate them to suit: a Dalmatian with brown M&M "spots," for example, or a rocket ship with jawbreaker "controls."
            For snowmen's scarves, cut long rectangles out of fruit leather, fringe the ends with scissors, and wrap around neck.
            For a big top hat, dip a large marshmallow into melted chocolate, and rest it on another fudge striped shortbread cookie - perhaps nibbled down around the edges in size so that it's not as wide. "Paint" the chocolate around the cookie, which is now the "hat rim," and let dry for a minute before you place it on your snowperson with a little frosting "glue."