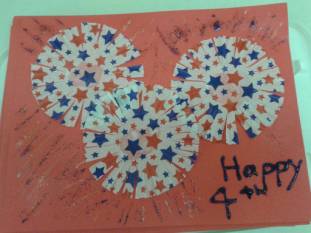 Fourth of July Placemats
            Today's Snack: Have a slice of angel-food cake with a handful of blueberries and a handful of cut-up strawberries on top, and if you've been really good, add a dollop of whipped cream or a scoop of vanilla ice cream! Drink with milk.
--------------------
Supplies:
Red or black cardstock or construction paper
Fourth of July print muffin cups | scissors
Glue or gluesticks | Glitter glue |
Small paper plate | Toothpicks, Q-tips or thin paintbrush
Laminating plastic, or take to a retail outlet to have them laminated
            Children enjoy making sets of placemats that their family can enjoy for years to come in the week before the Fourth of July as well as at holiday gatherings on the big day.
            Flatten three paper muffin cups per placemats, and use scissors to cut several slits around the edges so that they will lie flat, more or less.
            Glue the muffin cups down onto the cardstock or construction paper. Press down and let dry for a few minutes or longer.
            Squeeze or blob some red, white and blue glitter glue onto a small paper plate, and let the child form "fireworks" away from the muffin cups using toothpicks, Q-tips or a thin paintbrush.
            You may want to help out by squeezing a "Happy 4th" in glitter glue in the corner.
            Let dry overnight. You can simply tape your child's work up as a picture or decoration, or make them into placemats. Placemats are best when they can be wiped clean and re-used. So you need to laminate these if you plan to use them as placemats.
Either laminate yourself using peel-off plastic sheets, or take the placemats to a retail outlet, such as a photocopying store, and have them laminated. Cut them away from the plastic, leaving a one-inch border all around, so that moisture can't sneak in.
            Your laminated 4th of July placemats will give you and your child many years of enjoyment and memories.