May Day Newspaper Basket
            Today's Snack: Some kids don't like to eat the skin of apples. That's too bad, since a lot of nutrition is in that colorful skin.
So here's a tip: make Ladybug Apples. Kids will have so much fun eating them, they won't even notice they're eating the healthy skin, too!
Simply core a red apple to remove seeds, and then cut in half.
Place on cutting board, cut side down.
Take a paring knife and cut away several circles all over the hump.
Voila! It's a Ladybug Apple! The same kids who previously wouldn't eat apple skin might surprise you by asking to eat the "dots" you cut away, too!
--------------------
Supplies:
Colorful newspaper comic pages
Scissors | Transparent tape, low-temperature hot-glue gun or glue dots |
Roll of paper towels (not too wide) | rubber band
It's a rite of spring, and a rite of childhood, to run around putting May baskets on people's front porches on May 1, which is May Day. You can surprise neighbors, friends, maybe donors to your after-school program . . . have fun deciding who to treat with a May Basket, and how to accomplish your route the quickest way.
You fill a basket with spring flowers, candy or other small treats, run up to the porch, leave the basket, ring the doorbell . . . and run like thunder so you don't get caught. Because if you get caught, they get to kiss you! Ewwww!
Some people use real baskets to hold their flowers, in "vases" that are small glass jars. Others put candy into pretty paper cups. Green plastic strawberry baskets with pipe cleaner handles are an old favorite. But this year, since everybody is "going green," let's weave colorful baskets out of recycled newsprint to hold flowers, candy or both.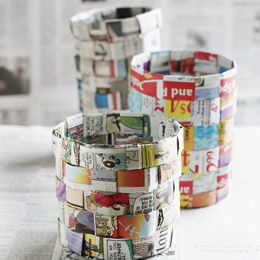 Here's a similar result from www.FamilyFun.com, only
It's missing the obligatory May basket "handle" of one more strip
Looping above the basket from side to side.
1. First, cut the newspaper into strips that are 5¼" wide by 21½" long. Fold each strip lengthwise several times so that it is about ¾" wide.
2. Make the bottom of the basket first. Lay two strips in the shape of a plus sign and tape them together. If you are skilled with a low-temperature glue gun, that works, too. Or you can use glue dots.
3. Now add four more strips, taping after each one, evenly spaced, until the strips form an asterisk (*) or wheel. You will have six strips in total.
4. Put a paper towel roll - not the tube, but the towel-containing roll, perhaps four inches wide - on the center of your six taped strips. Flip it so that the center of the taped strips is on the top of the paper towel roll. Your "basket" will be taking shape upside down on the paper towel roll.
5. Fold the strips down along the sides of the paper towel roll, and use a rubber band to hold them down, straight. Leave about 1½" under the rubber band. These are the vertical strips.
6. Now it's time to add the horizontal strips. Starting at the base of the basket (which is at the top of the paper towel, since your "basket" is currently upside down), tuck another strip under one paper "rib" and tape it.
7. Weave around in a circle, going sideways, over and under the vertical strips, 'til you come back to where you started. Pull this strip tightly as you go.
8. Tape the end in place.
9. Now take another strip, tape the end securely, and weave over and under the vertical strips just below the horizontal strip that you just made. But this time, if your FIRST horizontal strip went UNDER a particular vertical strip, make the NEXT horizontal strip go OVER it. That makes the traditional basket weave look, and strengthens your basket, too.
10. Leave about 1½" unwoven underneath the rubber band.
11. Remove the rubber band. Take your basket off the paper towel roll. Fold the raw edges over, inside the basket, and tape them down.
12. You can make a "handle" out of one more strip, adjusting its length with scissors if you wish, and glue or staple it to both edges of the basket.
13.  Finish with one more strip around the top edge.
You can spray your basket with acrylic sealer if you want it to last and also be water-proof. But part of the fun of these baskets on May Day is that they are totally Earth-friendly and recyclable.
Happy May Day! And don't get caught!