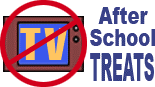 Groundhog's Day Cupcakes
Here's a fun way to celebrate the Feb. 2 tradition we call "Groundhog's Day." Make your own Punxsutawney Phil . . . and if he sees his shadow and forecasts six more weeks of winter, you'll be totally justified in EATING HIM!
Supplies for one cupcake:
One baked cupcake
White frosting
One Almond Joy or Mounds mini candy bar
A couple of small white jelly beans
Black cake decorating gel
Pink Nerd candy
Brown M&M Mini's
One chocolate wafer cookie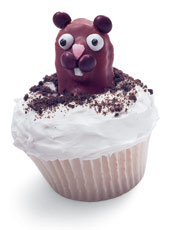 With a sharp knife, cut out a piece of the top of the cupcake just as wide as the mini candy bar.
Warm the mini candy bar slightly in the microwave (so the face pieces will stick to it) and place it, upright, into that hole.
Frost the top of the cupcake to secure the candy bar in place.
Place brown M&M mini's for two cheeks and nestle one pink Nerd above and between them for the nose. If they don't stick into the slightly-warmed chocolate of the mini candy bar, use a tiny dab of white frosting as "mortar."
Cut a tiny square out from the side of a mini white jelly bean for the front teeth and stick it in place into the chocolate under the cheeks, or apply with frosting.
Cut another mini white jelly bean in half and place the halves into the candy bar as eyes. Dot "pupils" with black cake decorating gel.
Sprinkle chocolate cookie crumbs (one side of an Oreo cookie with the frosting scraped off will do) around the groundhog like "dirt" from his hole.