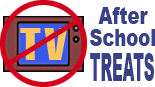 Nature Centerpieces
            Today's Snack: Make an "inside-out leaf sandwich" by pretending two lettuce leaves are pieces of bread. Large romaine leaves work well for this, and you can eat the other leaves torn up as a salad later. Build a sandwich on top of one lettuce leaf as you usually would on one piece of bread. On top of the lettuce leaf, put a piece of lunch meat or two, a slice of cheese or two, and a piece of bread as the centerpiece inside, with maybe a thin pickle slice or a dollop of mayonnaise or mustard - whatever you like. Then top with the other lettuce leaf. Cut into two or four sections, and eat and enjoy!
--------------------
Black foam meat tray, any size
Natural objects collected in a sack on a nature walk
Mixing bowl
1 cup flour
½ cup salt
1 T. cooking oil
Thanksgiving can be a little bit boring for the kids. Sure, they love the feast, but after Aunt Ethel has pinched their cheek and Grandpa has done a few magic tricks, there's nothing much else to do.
But here's a fun project you can assign to the non-cooks to do with the kids while you cook: make nature centerpieces for the Thanksgiving table. They'll be humble, but heart-felt, and best of all, they'll keep the kids occupied.
You will need one Styrofoam meat tray (preferably black) for each child; scrub and recycle your own, or ask at the meat department for clean ones!
Your project leaders (grandfather? favorite uncle?) should give each child a sack, bundle them up, and walk with them outside around your yard, or take a walk to the nearest park to collect little bitty scraps of autumn beauty.
Get three or four small pine cones, some pods, acorn "hats," small leaves, red berries, an interesting head of grass seed, squiggly twigs, and so forth.
Return home and make the "dough." Kids can mix one cup of flour with ½ cup of salt, ½ cup of water, and one tablespoon of cooking oil. They should knead the dough for a few minutes, then spread it with their fingers on their meat trays as evenly as possible.
Then they can stick and "squoosh" their finds from nature into the dough as a collage. Be careful not to break anything. Try for a pleasing, balanced appearance that will look just as pretty from any angle around the table.
Place the collage on the Thanksgiving table as a conversation piece, and voila! They'll be done just about the time the feast is. And you'll give thanks that the kids were out of the kitchen and not underfoot while you were putting on the finishing touches.