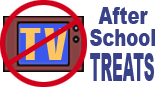 Mother's Day: Flower Magnets
Today's Snack: Make flowers out of cut-up vegetables! A "round" or disc of a yellow squash could be the center of a daisy, with strips of white jicama (pronounced "HICK-uh-muh") sticking out in all directions, and a skinny stalk of broccoli or celery as the stem. Have fun using up the leftover veggies in your fridge to make a healthy garden for your snack, and serve with a little ranch dressing to dip your "flowers" in and eat.
--------------------
Supplies:
Wooden disks from a craft store
Paint
Glue or hot-glue (have an adult help so you don't get burned)
Ribbon
Glitter paint or puff paint
Silk flowers or cute bugs
Magnetized strips or squares
Does Mom need a refresher for the front of the refrigerator? Are your magnets mismatched, or tired out? Make new ones with soft, summery colors she'll love. You can follow this general idea to make holiday magnets or those that will look nice during the colder months, too.
Buy a quantity of wooden disks at the craft store - perhaps an inch or two in diameter, and an eighth-inch or quarter-inch thick. You'll need paint, ribbon the same thickness as the disks, glitter paints and puff paints, and coordinating silk flowers.
Paint the disks and let dry. Hot-glue ribbon around the edge.
Cut individual silk flowers such as daisies off their stems, and hot-glue on.
Or you can cut petals off several silk flowers and arrange in a pleasing pattern.
Finish off with glitter paint or puff paint.
If you have a tiny fabric bee or butterfly to add, that makes an adorable finishing touch.
You can buy magnetized strips or squares at a craft shop to put on the back of the disks.