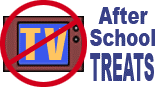 Chinese New Year Lantern
            Today's Snack: In the frozen food aisle, you should be able to find a package of Pot Stickers to make in the oven or microwave. Or maybe to really celebrate this holiday and learn more about the Chinese culture, this is the day you should arrange a mini-field trip to an Asian grocery store, and visit with the experts on Chinese food who work there to select an authentic Chinese New Year treat.
----------------
One of the highlights of the Chinese New Year celebration is the lantern festival. The Chinese tradition calls for people to make and decorate paper lanterns that hold candles that can be held up in a parade - often alongside the dragon dance - that's intended to foster good luck for the year. The Chinese tradition holds that lights can scare away evil spirits.
            Lanterns are often in red, the traditional color of fire, thought to be great for demon-prevention. They're often decorated with ornate painting and embellishments.

            Here's how to make a simple lantern:
            Give each child a piece of scrapbook paper, wrapping paper or construction paper, scissors, and glue or a stapler.
            Fold the paper in half, lengthwise. In light pencil, measure one inch away from the unfolded edge. Cut from the folded edge and stop cutting one inch from the unfolded edge.
            Unfold, and form into a cylinder by joining together the short uncut ends of the paper.
            Glue or staple another strip of construction paper for a handle.
            You can decorate the outside with gold glitter paint or other special touches.
            When you're ready, go into a dark room or basement and give each child a flashlight or pocket light to shine up through the lantern. Dance! And celebrate! Happy New Year!