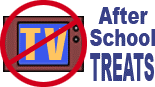 New Year's Goodie Calendar
Today's Snack Idea: make your New Year's Resolution be to eat an apple a day.
You really won't get tired of this awesome fruit,
and it provides fiber and flavor that you really need!
--------------------
Supplies:
Two large pieces of poster board
Yardstick
Pencil
X-acto knife or utility knife (adult supervision, if needed)
31 beads (optional)
Photos, coupons, recipes, inspirational words cut from magazines or catalogs, etc.
How'd you like to start off the new year right, by giving a little cheer to somebody or even yourself? Here's a fun New Year's present for yourself or for someone you love. Do you know what an Advent calendar is? It's like a giant greeting card with a little door cut out of it for every day of the month leading up to Christmas. You can make a New Year's calendar for the month of January that's like that, with a little treat for every day of the first month of the new year.
Take one piece of poster board. Using a yardstick and pencil, draw 30 equally-sized squares, evenly spaced on the poster board. Cut out three sides of each squares - the top, right side, and bottom. The left side of each square becomes the "hinge." Make the openings as big as you can and still have the overall poster look nice. For each flap, fold it like a "door" outwardly, then in through the hole, and finally even with the paper again, so that it will stay "shut" unless someone opens the flap. Number these squares from 1 to 31. You can hot-glue a bead on it as the "doorknob," but it's not necessary.
Now come up with 31 funny pictures, coupons, recipes, treats, or other little surprises to put behind each door. If you live where it's cold, how about palm trees and beach scenes? If the person you're making this for likes a certain sports team, how about their logo or helmet? You could put your photo, or a favorite pet, or an inspirational word like "Believe" or "Hope" on a square. Maybe you could tape a piece of gum in one space! How about a small cologne or lotion sample packet? You could tape a coupon, an inspirational quote, or even a movie ticket in place. You could write a short joke or poem in a space. You could put a Bible verse or a prayer or a blessing. Include whatever you think might delight the recipient, every day!
Secure these with tape or wire onto the second piece of poster board, laying it underneath the 30 flaps so that each surprise will be visible when you open the door flap.
You can arrange it to look like a big card - mostly flat - or like a book if your surprises aren't just flat pieces of paper. If you choose the 3-D book option and you need a "spine" between the front and back to accommodate 3-D surprises, put small blocks or stacks of foam-core board between the two sheets and plastic-tape the "book" together.
If you're giving this as a gift, it'll be much appreciated through the month of January, which can be kind of a downer after all the holiday excitement. So be a goodie - and give someone a good start for the new year!