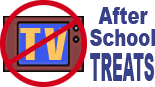 Ge-FROG-raphy
Snack: There are lots of cool things about a frog's body. But one of the best is the long, sticky tongue that many frogs use to shoot out, catch a fly or other prey, and curl it in for a snack. Now, you're not going to have to eat flies - thank goodness! But pop some popcorn, put it on a plate or platter, put your hands behind your back, and eat the popcorn . . . with only your tongue. Ribbet!!!
----------------
To gather in advance:
A relatively large globe or world map
Scotch tape
Print out this activity and cut apart the frog cartoons
Frogs live on every continent of the world except Antartica. Where there is water, there are frogs. The bad news is, as wetlands are drained so that buildings can be built for human use, frog habitat is declining. This, coupled with the effects of pesticides and fertilizers on the frog's health and the fortunes of its food supply, put frog numbers in decline and make frogwatching a little more iffy around the world. However, there are endless species with endless variations, making this familiar amphibian endlessly fascinating.
For this activity, cut out these frogs, make a little tape circle, and stick each frog where it goes on a globe or world map. You can research these species further on a search engine. There's a lot to know about frogs, and amazing variety of facts about each of these species!
For added excitement, print out two copies and challenge someone to a race. First one to get all the frogs in place, correctly, gets to watch the other one crouch down on the ground and hop across the room!
Ready . . . set . . . RIBBET!

Litter leaf frog
Cuba

Gold frog
Brazil

Northern leopard frog
Canada
Golden poison dart frog
Colombia

Ornate horned frog
Argentina

Male blue-spined glass frog
Costa Rica

American bullfrog
United States

Spadefoot toad
Europe

Goliath frog
West Africa

Nightfrog
India

Tukeit Hill frog
Guyana

Milky tree frog
Venezuela

Gastric Brooding frog
Australia

Red-eyed tree frog
Central America

Long-nosed horned frog
Malaysia

Tree frog
Thailand

Tomato frog
Madagascar

Wallace's flying frog
Borneo

Paradoxical frog
Trinidad

Gold-striped frog
Ecuador

Coquis
Hawaii

Moor frog
Slovak Republic

Clawed frog
Southeast Africa

Hairy frog

Gliding tree frog
China