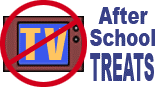 FUN, GAMES, DANCE & EXERCISE:
Hip-Hop Moves
Today's Snack: You need something light and bouncy if you're going to dance hip-hop moves. So try some popcorn, washed down with some light and sparkling apple juice.
--------------------
Supplies:
Laptop connected to a big screen,
Internet access, and a room big enough for y'all to move!
Everybody's in to hip-hop! It's fun, it's cool, and it's good for you to get up and get your body moving.
Try this series of simple, easy-to-learn hip-hop moves, available free and online, that everybody can follow. Start with this one, "Tap It Out":
Hip Hop Dance Moves for Kids
Tap It Out:
http://www.youtube.com/watch?v=4J8uP46FhDE&feature=related
Simply show the YouTube video for each segment until the students have mastered it. Then move on to the next one listed in the YouTube window.
You may want to learn one a day for a couple of weeks and then put an entire dance together!