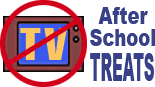 Sock Garden
            Today's Snack: Have a glass of milk and a half-cup of seeds! Have fun shelling some peanuts, and mix them with popcorn, shelled sunflower seeds and toasted pumpkin seeds.
--------------------
Supplies:
One child's-size sock--here's a great way to use that
"mystery leftover sock" from the dryer
One square foot of well-cultivated garden space
Spade
Handfuls of compost and bone meal
Ruler
Large craft stick
Permanent marker
Watering can
            This activity is best done in early- to mid-spring. You will need to go to a weedy hillside, a ravine, an empty lot, a park, or somewhere where there are likely to be a lot of plants left over from last year still clinging to their seeds. A well-manicured lawn or park is not likely to have much to offer for this wacky experiment.
            What you're going to do is take off one shoe and sock, and put on one sock that you can part with. It doesn't matter if it's white, black or a color.
            Now walk around the wild area for as long as you'd like, in your one stocking foot and one shoed foot. Try to walk near there are plants with seed pods hanging from them, but beware thorns, briars, burrs and prickles. Definitely keep an eye out for broken glass, sharp metal edges or anything else that could cause an owie.
What are you doing? Collecting seeds with your sock!
That's what animals do. Did you know that animals provide one of the most important ways that plant seeds can transfer into ground where they will have a chance to grow? The wind spreads seeds around, too, and so do birds that eat fruit and then, excuse the expression, leave the undigested seeds in their waste. But furry animals do their fair share. Seeds stick to their fur for a while, then drop off in some likely spot.
Have fun pretending that you are a woodland animal, and that seeds are accidentally catching on your fur. Are you a fox? A deer? A wolverine? A squirrel? Act like one!
            After a while, take a look at the bottom of your sock. Are there some seeds clinging to it? Good.
            Carefully take the sock off, and lay it near the garden soil that you have prepared in advance. By "well-cultivated," we mean that you have dug down into the dirt with a spade - that's a long, skinny shovel - and turned the dirt that was about a foot deep up to the top. Then bash the big clods with the spade until they are little clods, and crumble apart the little clods into nice, soft dirt.
You want the soil to be about as powdery as brownie mix or slightly lumpy flour. You can add a couple of handfuls of compost and maybe a handful of bone meal, which is great organic fertilizer. Push some of the dirt to the sides so that you have a planting area ringed by extra dirt. Now you are ready to "plant"!
All you do to "plant" is place your sock on the prepared dirt! Then cover your sock with about one-fourth to one-half inch of the fine garden soil you pushed to the side. Stick the ruler into the dirt to make sure you don't put too much over your sock.
Write your name on the craft stick and stick it into the ground just in front of your sock. Water with a sprinkling can so that the dirt "blanket" doesn't wash away.
            It's best to water this "sock garden" every day that it doesn't rain for the next few weeks, just enough to keep it kind of moist.
            Within a few weeks, you should see some baby plants sprouting in your "sock garden." Keep watering them, and watch them grow!