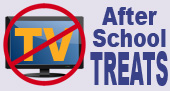 Top 10 List for Little Patriots
            Today's Snack: A patriotic treat: red jello topped with white whipping cream and a sprinkling of blueberries! Wash it down with milk or water.
--------------------
Supplies:
Pre-order the paperback book ($8.99) online:
"One Nation Under God: A Book For Little Patriots"
By Amelia Hamilton, www.ameliahamilton.com
Ten blank index cards per student | pencils
Colored pencils | colored rubber bands
Here's a fun and easy way to teach children 10 key concepts about the United States of America. Pre-order the book and read it to the students before you do today's activity. The book has clever poems about each patriotic concept.  Students will enjoy the colorful illustrations, too.
After you've read the book aloud, distribute the index cards in sets of 10. Together, write each concept in pencil on a different card. Students should draw the numbers large and exaggerated so that they can color them later. Discuss with them the impact on their lives of each of these precious treasures of freedom:
One Nation Under God
Two Chambers in Congress
Three Branches of Government
Four Presidents on Mount Rushmore
Five Branches in Our Military
Six Ships That Kept Us Free
Seven Rays on the Statue of Liberty
Eight Fifes and Eight Drums
Nine Supreme Court Justices
Ten Amendments in the Bill of Rights
Students can use colored pencils to decorate the numbers and add their own illustrations. They may enjoy copying the ones in the book. They can keep their set of cards together with a colorful rubber band and take them home to keep and share with their families and friends.